Update: We spoke with Veraci owner Errin Byrd, who tells us the closure at their Ballard Farmer's Market stand on Sunday was only temporary. Byrd says the hand-washing violation was due to the fact they ran out of paper towels and were using paper napkins instead. They have a hand-washing sink which every employee uses, and were using the napkins to dry their hands until paper towels were back on site. The other violation was improper food temperatures, which Byrd says was due to a difference in the way they measure the temperature of the food. She says that rather than testing the actual temperature of the food, the health department was testing the temperature in the refrigeration unit, which registered at 50 degrees instead of 37 degrees. Byrd said the issues were a quick fix; they threw out the food that the health department determined unsafe and bought paper towels for their hand-washing station.
Of the incident, Byrd says she's sad it happened, but that they're seeing it as a learning experience. "Never let go of standards," she said in a phone interview Monday evening. "It's so important. We live here, we don't want anything bad to happen. We screwed up, we fixed it, and all we can do now is learn from the experience."
Earlier: Veraci Pizza was forced to turn off the wood-fired oven temporarily close at the Ballard Farmer's Market on Sunday after public health officials found food at unsafe temperatures and employees not washing hands, according to the Seattle P-I.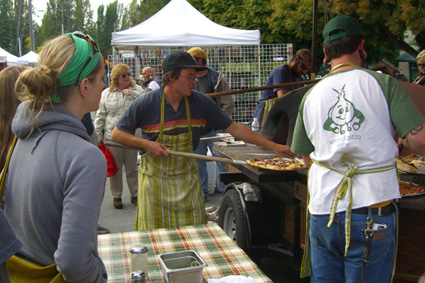 Veraci's stand at the Fremont Market
The popular pizzeria has locations in Ballard, Spokane and in Oregon. To read more about the closure, visit the Seattle and King County Public Health website.