Blue Flavor, a web and mobile design company based in Fremont, is one of several businesses that have been burglarized since the beginning of the year. In fact they've been broken into three times — the last two burglaries occurring within three days of each other in late August. "An alarm system alone is clearly not good enough to protect you," says Blue Flavor's Nick Finck, who says they've taken extraordinary steps to beef up security.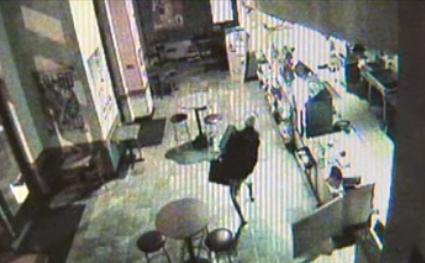 It's all part of a burglary spree that was first reported back in July — as many as 45 burglaries in the Fremont area in one month alone, from Blue Moon Burgers to Quizno's (pictured above in security video). An overnight burglary at Ballard's TigerTail may be connected. And an email sent by the Fremont Neighborhood Council lists several brazen residential burglaries, too, some taking place while residents were asleep inside.
Seattle Police are being very tight-lipped on the burglary spree, which may or may not be the work of the same burglars. Renee Witt, a public information officer for the department tells us that they won't release any information on whether these crimes are all connected or if there are any persons of interest. She says detectives don't want to jeopardize the investigation. If you have any information on the case, you're asked to contact the police department.