– The 12th annual Fremont Oktoberfest begins tonight (Friday) and runs the entire weekend. The Brew Ha-Ha 5k run is Sunday at 10 a.m. (We'll have Oktoberfest coverage over on Fremont Universe.)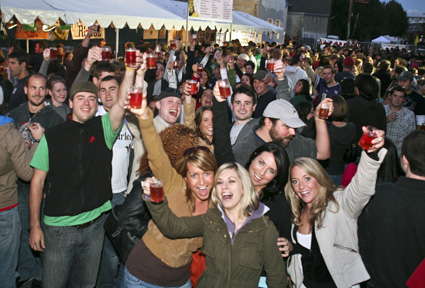 (Action photo from last year's event, courtesy of the Oktoberfest).
– Celebrate North Beach Elementary's 50th Anniversary on Saturday from 11 a.m. to 4 p.m. There will be bouncies, live music (Recess Monkeys), food, commemorative displays and much more.
– The 20th Annual Fishermen's Fall Festival at Fishermen's Terminal is Saturday from 11 a.m. to 6 p.m. Two stages operating throughout the day with live music, demonstrations, a fantastic salmon BBQ, educational booths, lots of fun kids' activities and a beer garden.
– The 2008 Northern Lights "Auktion" benefiting the Nordic Heritage Museum Sunday at 4:30 p.m. at the Grand Hyatt Ballroom.
– For live music, check out the concert calendars for the Tractor Tavern, Sunset Tavern, The Bit Saloon, High Dive, Conor Byrne and Nectar.
As always, check out our events calendar. And if you have an event to add, just email us at tips@myballard.com and we'll post it in the calendar.