Just after 11 p.m., the Seattle School Board unanimously approved the new boundary maps assigning which schools Seattle children will attend for years to come. The vote stretched into the night as directors added amendments to the plan, slightly adjusting boundaries here and there. For the Ballard area, the boundaries for Whittier Elementary/West Woodland and Loyal Heights Elementary/Adams Elementary were shifted slightly from last round of changes. The updated maps and address look-up tool will be available here by next week.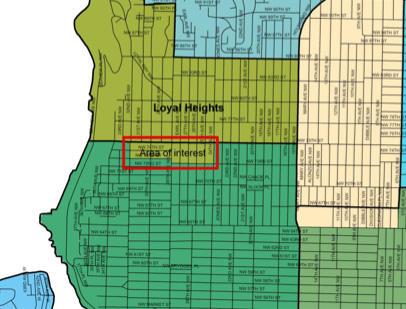 Above is a look at the new Loyal Heights/Adams Elementary boundary change. According to the Omnibus Amendment (.pdf), "Based upon current data, it is believed that moving the southern boundary for the Loyal Heights atttendence area from Northwest 75th Street to Northwest 73rd Street starting at 32nd Avenue Northwest running east to 24th Avenue Northwest, following the jog south in Northwest 73rd Ave at 28th Avenue Northwest to 24th Ave Northwest will result in a projections of 19 students shifting from Adams to Loyal Heights. This results in the projected enrollment at Adams moving from 13 in excess of functional capacity to 20 under functional capacity. Following the streets in this manner also ensures that the students who move into the Loyal Heights atttendence area are within the Loyal Heights walk zone."
The southern boundary for Whittier Heights Elementary was adjusted from NW 67th to NW 65th St. Students north of 65th will go to Whittier, while students south of 65th will go to West Woodland.
The biggest remaining controversy was the dividing line between Ballard High School to the south with Ingraham High School to the north.


"Many families would've liked to have seen the boundary for Ballard to be further north than 85th St., especially those communities, North Beach, Blue Ridge, Olympic Manor, which now largely attend Ballard High School," explained Seattle Schools Director Peter Maier. "I wish it would've been possible… but there simply isn't the capacity at Ballard High School to do that while we're serving the entire city."
From here, a transitional plan will be developed, taking into consideration sibling grandfathering, transportation and educational programs for schools that will reopen. Viewlands Elementary is slated to reopen in 2011.