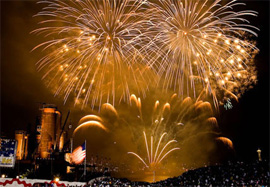 It seems that the show will go on! Just 24 hours after Tom Douglas and Dave Ross announced a pledge drive to raise money to save the Family 4th Fireworks show on Lake Union, the goal of $500,000 has been reached.
Both Microsoft and Starbucks agreed to each pay $125,000 if other businesses and citizens pitched in the remaining $250,000. "We're pleased to announce, with your help we have reached the goal of raising $500,000 in pledges. According to One Reel, the nonprofit that organizes the show, that is the amount needed to keep the show going," an announcement posted on MyNorthwest.com states.
Mikhael Williams, spokesperson for One Reel, which has produced the event for more than 20 years, told MyWallingford.com yesterday that Monday was the deadline to meet the goal.
(Full disclosure: Next Door Media, which powers MyBallard.com, has donated to this fund.)