Updated 7 a.m. The Coast Guard pulled four fishermen from the frigid Alaska waters after the Seattle-based boat Northern Belle sank on Tuesday evening. Three were suffering from hypothermia, and the fourth was unresponsive and receiving CPR treatment, the Coast Guard said last night. Medics were unable to revive the crewman, who had sustained a head injury while existing the boat, reports the Anchorage newspaper this morning.


A spokesperson said the Coast Guard received a mayday call at 5:30 p.m. that the crew of three men and a woman were abandoning the sinking 75-foot ship. "We have four people on board," said a crewmember on the call. "We are getting in the life raft. We are going down!" (Listen to the mayday call in two audio clips linked from this Coast Guard page.)


A rescue helicopter and HC-130 aircraft, along with a Coast Guard cutter, were dispatched to the scene, 50 miles south of Montague Island (see map). A spokesperson says the crew, wearing survival suits, was pulled from the water at 8 p.m. They were transported to medical personnel in Cordova, Alaska. The three surviving crew are doing well, a hospital spokesperson said.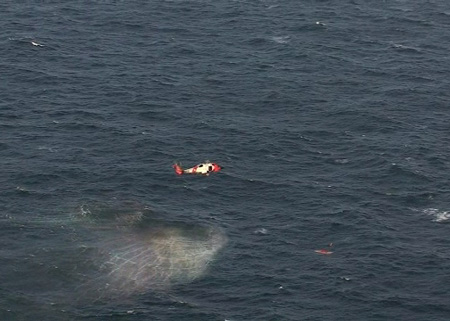 The Northern Belle is based at Fishermen's Terminal. You can see a photo of what appears to be the same boat at the terminal here. We'll update you as we receive new information.
(U.S. Coast Guard photos by Petty Officer Sara Francis. More here.)