Let the jazz begin! The Eighth Annual Ballard Jazz Festival starts today.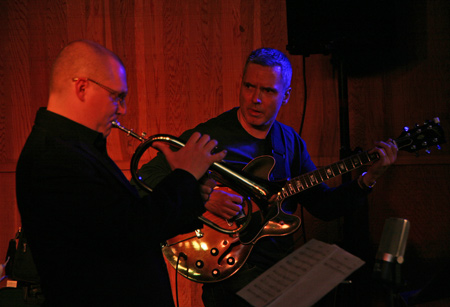 Scenes from the 2010 Jazz Walk: The John Moulder Quartet
From the festival program (.pdf.)
Again, the festival kicks off with the Brotherhood of the Drum, this year at Conor Byrne Pub. Seattle is home to an incredible array of great drummers and we will be showcasing just a few of them – Michael Shrieve, Greg Keplinger and the up-and-coming Evan Woodle with his band Chemical Clock – along with a very special guest, the fiery Chicago drummer, Kobie Watkins.

The Guitar Summit has developed into a fan favorite over the last couple of years, and this April's should be just as inspired with four amazing guitarists on the bill.

The perennially-packed Ballard Jazz Walk promises to be another great time as we welcome two new venues, The Copper Gate and the upstairs venue at the Salmon Bay Eagles, and a line- up of over 70 great Northwest musicians.

To properly recover from Friday night's Jazz Walk and prepare for Saturday evening's Mainstage Concert, the festival teams with the Nordic Heritage Museum and Chuck Cady/Ann Babb-Nordling, ReMax NW, to present the Sunday Swedish Pancake Jazz Brunch with one of the top vocalists in the country, Gail Pettis.
For the Mainstage Concert, we close out the festival turning to the intimacy of the Nordic Heritage Museum for L.A. pianist Mitchel Forman's Quartet and the blazing East-West Trumpet Summit with New Yorker Ray Vega and Seattle's own Thomas Marriott.
More information can be found here. Tickets can be purchased here. You can download Friday's Jazz Walk map here (.pdf) and the festival program here (.pdf). (Disclosure: MyBallard is a sponsor of the Ballard Jazz Festival.)